1) Substantial uncertainty continues to cloud the October presidential election. Current polls (Datafolha) show the more centrist, clearly reformist candidacies at low levels. However, many possible scenarios could play out ahead of the first round of the election. Importantly, we highlight that any clarity on the outlook is only likely to emerge much closer to the vote; in other words, not within the next two to three months.

2) The macro-economic front is marked by historically low interest rates, very well-behaved inflation, strong external accounts and a (still quite modest) recovery in economic activity. However, Brazil's fiscal standing is still very fragile and in our opinion, requires reform, particularly to the pension system. The incoming administration's willingness and ability to pass reform remain as key variables in the outlook.
3) We estimate local rates and the FX market are pricing in a 75% pessimistic /25% optimistic scenario. In other words, the market appears to be pricing in a 25% probability of a reformist victory in the election, a percentage that we find reasonable right now.
4) As the market appears to be biased towards a more "pessimistic" scenario, its initial reaction could be stronger in the event of positive developments than in the opposite case. Nevertheless, beyond the market's initial reaction, we acknowledge that a scenario in which a pension reform is delayed would likely trigger negative spill-over effects difficult to capture ex ante.
5) Under the above-mentioned conditions we believe the market will continue to trade poorly unless there is a meaningful increase in the likelihood of a "reformist" winning the election. Unfortunately, we are likely still months away from gaining any clarity on this. Therefore, we will continue to trade Brazil on the bearish side (BRL under-performance trade and avoiding receivers in the belly/long end of the DI curve).
Results: Estimated initial reaction and expected values in Brazilian rates and FX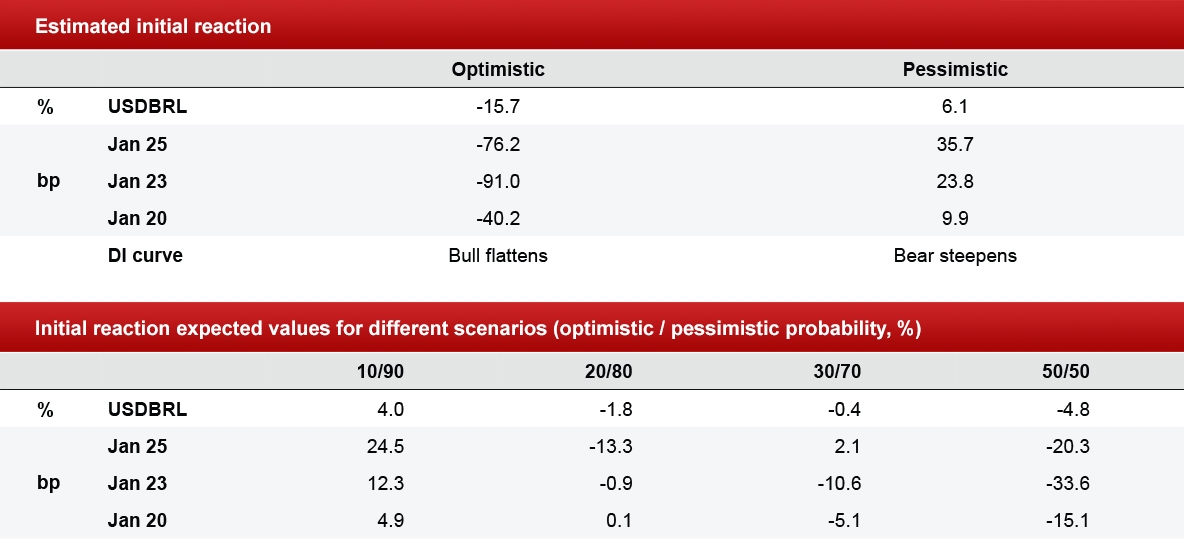 Source: Nomura
Read the report for more insights on the upcoming presidential elections in Brazil.